This talk examines textile homes, that is, tents, precarious housing, and "wobbly structures." Moving from lo-tech handmade knitted houses to high-tech responsive membrane architectures, Dr. Robertson considers how the utopian premise of many such edifices belies their actual contingency and fragility. Instead of reading textiles as comforting (an often automatic assumption), she instead turns to examples of textile homes, tents, and buildings that illustrate threat, danger, and upheaval.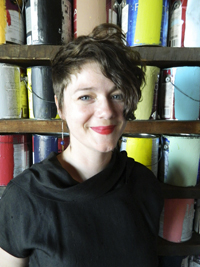 Dr. Kirsty Robertson (University of Western Ontario)
Kirsty Robertson is an Associate Professor of Contemporary Art and Museum Studies at Western University, Canada. Her research focuses on activism, visual culture, museums and changing economies. Her publications include the co-edited volume Imagining Resistance: Visual Culture, and Activism in Canada (Wilfred Laurier University Press, 2011), the tri-authored volume Putting Intellectual Property in its Place: Rights Discourses, Creative Labour and the Everyday (Oxford University Press, 2013), and book Tear Gas Epiphanies: New Economies of Protest, Museums and Culture, (forthcoming).
DATE/TIME: Wednesday 24 SEPT, 3PM
LOCATION: 130 GOLDFARB Centre for Fine Arts
All are welcome. A reception follows at Sensorium 303 Goldfarb at 4:30PM
For more information, please contact senso@yorku.ca