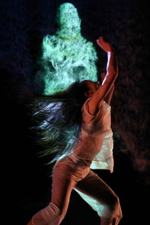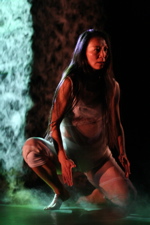 Radiant (2008), choreographed by Holly Small; performed by Keiko Kitano
Small's new solo, choreographed for her York University Department of Dance colleague Kitano, features original music by Governor General's Award-winning multidisciplinary artist and York alumnus, John Oswald, and video projections created by Small and Oswald. Cutting-edge fogscreen technology allows Kitano to move through the video image, which is projected on a surface made of very light mist. The performance premiered as part of the show Dance Inside/Out, which took place on January 31 and February 1, 2008 at York's Sandra Faire and Ivan Fecan Theatre.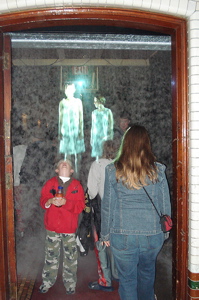 The Residents (2007) by Jared Raab and Linsay MacKay: a dance-based video installation illuminating the windows and doorways of Casa Loma's historic stables during Toronto's Nuit Blanche in 2007. In the videos, contemporary modern dance segments, choreographed and performed by York University dance alumni Alicia Grant and Cara Spooner, deal with the themes of voyeurism, class divide and the private life of servants. Video elements are projected on several innovative screens, including the Future Cinema Lab's Fog Screen. The installation was in place from sunset on September 29th, 2007, to sunrise on the 30th.
The Toronto Star named the dances and projections that took place at the Casa Loma stables one of the "greatest hits" of Nuit Blanche 2007.